Jonathan Byrd & The Pickup Cowboy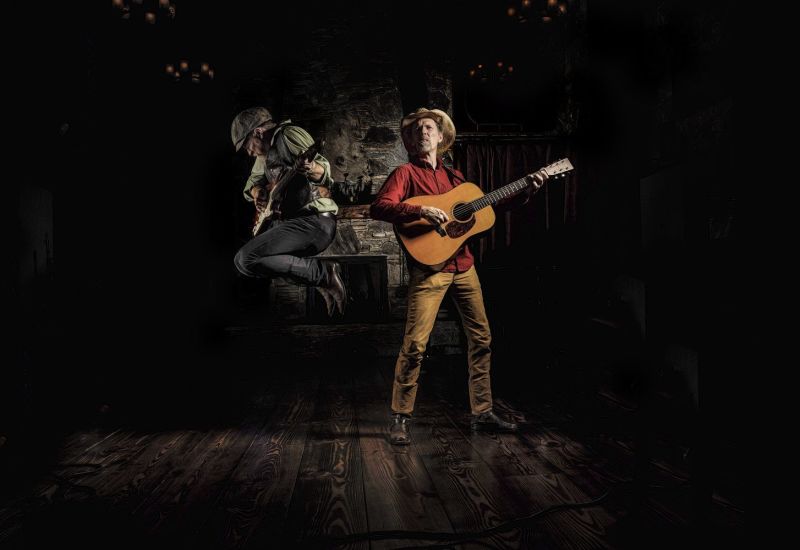 Jonathan Byrd and The Pickup Cowboys are musical gunslingers, vaudevillian hucksters, and old-fashioned tent revivalists. Between heartbreaking ballads and heart-lifting sing-alongs, the Cowboys entertain and get audiences involved in the show.
"...a folk singer with the heart of a rock 'n' roll band." — K. Oliver, Free Times
Byrd is a preacher's son, a Gulf War veteran, and an award-winning songwriter from Chapel Hill, NC, known for literary, outsider songs that have become campfire favorites. The Chicago Tribune called Byrd "one of the top 50 songwriters of the past 50 years."
Jonathan Byrd on some of his albums and projects...
"The Barn Birds" is an eleven-song duet with Chris Kokesh. "…negotiations, proclamations, prayers and conversations between lovers… intimate and poetic, passionate and playful." -Erik Balkey, Hudson Harding Music. Chris and I met in 2007 at the Sisters Folk Festival in Sisters, Oregon. After touring cross country, we went back to Oregon to make our first recording in a barn, but we were foiled by the intermittent noises of the barn's resident birds. We became "The Barn Birds" and did a live re-recording in Texas at Blue Rock Studio. In a day, of course. I still can't believe we got it mixed by John Keane (REM. Indigo Girls) and mastered by Brent Lambert at The Kitchen. My guitar sounds like it's on your face.
"You Can't Outrun the Radio" is a high-energy record recorded with an all-Winnipeg cast of Canadian superstars: Alexa Dirks and Andrina Turenne (Chic Gamine), Grant Siemens (Corb Lund), Joanna Miller (Scott Nolan, Mary Gauthier), and Rej Ricard (Wind-Ups). It sounds like church and sex at the same time. A great record for the last hour of a long drive.
"Mother Tongue" was recorded in Copenhagen with The Sentimentals (thesentimentals.com). We explored Søren Kierkegaard and Bob Dylan to find a lyrical language, so that we could write songs that held together on an album. Dylan and Kierkegaard forced opposing elements into a single idea, "…to separate what is inseparably joined in order to put it together again," says Kierkegaard. Dylan sings, "to live outside the law you must be honest." "I was so much older then. I'm younger than that now." The Mother Tongue project is a sort of audio handshake and international conversation between philosophy and rock 'n' roll.
Jonathan Byrd & The Pickup Cowboys is my latest record and project. We play every Wednesday at a little roadhouse called The Kraken on highway 54 outside Chapel Hill, North Carolina. The residency has become a community for some and a pilgrimage for others. Tune in on facebook live, 7-10pm Eastern Time any Wednesday, or make the trip to join us. My friend Nathan Brown said, "It's like a Quentin Tarantino movie."
Learn more at http://www.jonathanbyrd.com
The Dan River Girls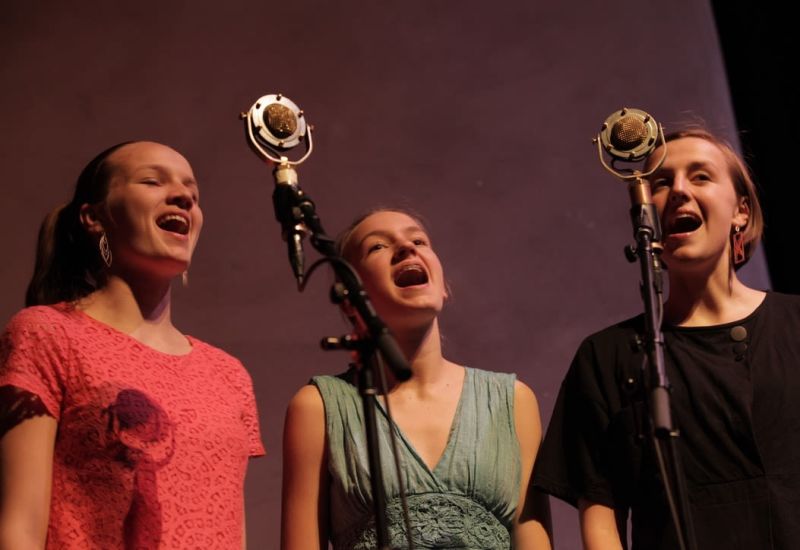 The Dan River Girls are three sisters from Winston-Salem, North Carolina. Fiona, 17, plays mandolin and cello; Ellie, 15, plays double bass; and Jessie, 12, plays classical violin and fiddle. They study voice with Martha Bassett and traditional instrumental music with Rex McGee and enjoy performing around the area.
The following was presented in "Forsyth Woman Magazine"...
These three sisters have been playing music for most of their lives, and are true students of the art of making music.
What inspired you to start playing music?
Ellie… I don't know what inspired me when I first started playing, probably my parents, but as time has gone on, I have been inspired by the ability music has to transcend language, religion, and all the differences that make us human.
Jessie… I started with classical music, which I still love. We started playing bluegrass because it was fun, and because we live in North Carolina, where a lot of fiddle music has its roots.
Fiona… My parents inspired me when I was five years old to start playing cello; Jacqueline Du Pre's and Sol Gabetta's recordings inspired me to keep it up; mandolinists such as Chris Thile inspired me to take up mandolin.
What did you enjoy most about the recording process?
Ellie… Whenever I record, my favorite thing about it is being able to freeze the progress we have made as a band and as individual players.
Jessie… Recording: it gives me the chance to experiment more and add lines of harmonies you can't do in a live performance.
Fiona… I enjoy arranging the songs and writing beautiful harmonies for one instrument that can only be recorded and not played live.
Who are your biggest musical influences?
Ellie… Della Mae, Edgar Meyer, Honeycutters.
Jessie…Rex McGee and Martha Bassett (our teachers), Julia Fischer, Lin-Manuel Miranda, Della Mae, Alasdair Fraser and Adam Sutherland (Scottish fiddlers we study with in the summer), David Bowie.
Fiona… Della Mae; opera composers such as Wagner, Verdi, and Puccini; our uncle Kevin Burdette, who is an opera singer; Martha Bassett; Rex McGee
Learn more at https://www.facebook.com/DanRiverGirls