Heather Maloney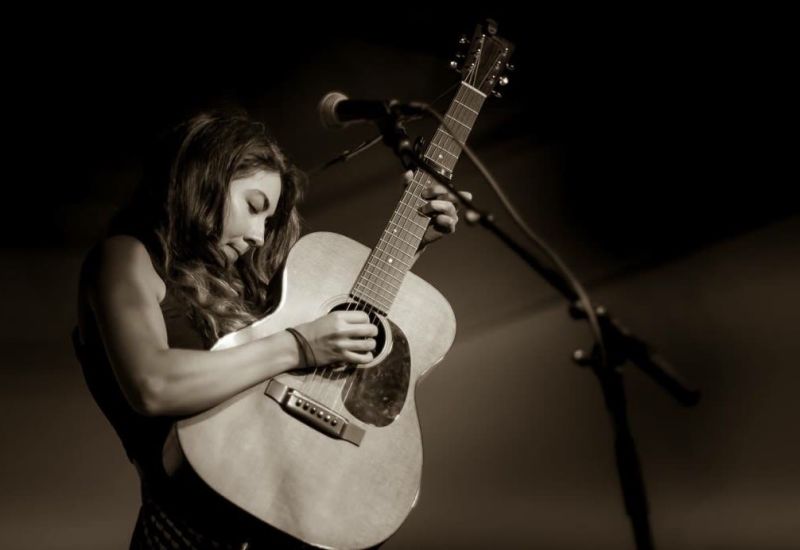 Massachusetts writer and song-singer Heather Maloney celebrates the release her 2018 EP, Just Enough Sun. The six songs (five new originals and a cover of Dylan's "A Hard Rain's A-Gonna Fall") were recorded as mostly single-take, live performances in a room where instruments bled into vocal mics and vocals into instruments. The result is a raw and deeply vulnerable collection songs that follow Maloney's literate and often heartbreaking exploration of family history, childhood dreams and the adulthood realities that butt-up against them; loss, misogyny, unrequited love, poverty, and even the moral dilemma of sending monkeys into space for the sake of science. The daughter of a psychotherapist and a carpenter, Heather's songwriting is equal parts introspective and relatable.
JUST ENOUGH SUN is released by the celebrated indie record label, Signature Sounds and co-produced by accompanist Ryan Hommel. The recording effortlessly captures Hommel and Maloney's dynamic live performances as a duo, with subtle instrumentation that lifts the songs up to new places without ever shifting the focus too far from Maloney's stunningly visceral voice and thought-provoking lyrics.
Maloney's 2015 record Making Me Break was produced by Bill Reynolds (Band of Horses, Avett Brothers, Lissie) and features an all-star backing band including members of Band of Horses (Bill Reynolds, Tyler Ramsey), The Wallflowers, My Morning Jacket, and Darlingside.
Upon the release of Making Me Break, Maloney landed on SPIN Magazine's "Artist to Watch", with enthusiastic reviews from The Huffington Post, Consequence of Sound, and No Depression. The last song on the record, "Nightstand Drawer", became Maloney's first major television song placement on the CBS series "Elementary".
As a Signature Sounds artist, Maloney has toured nationally as a headliner as well as in support of acts like Lake Street Dive, Rodrigo y Gabriela, Gary Clark Jr., Colin Hay, Mary Chapin Carpenter, and many more. In 2014 she collaborated with the rising Boston quartet Darlingside on the Woodstock EP, a tribute to the Joni Mitchell-written / Crosby, Stills, Nash & Young-covered 60's anthem. The cover was featured on the New York Times and garnered attention from Graham Nash himself, who called the performance, "Delicious, really excellent."
Raised on a record player instead of a TV, Maloney dug deep into per parents' record collections for entertainment, obsessing over the Beatles Joni Mitchell, Fleetwood Mac, C.S.N.Y., Bob Dylan, and more. So it's no surprise that the folk, pop, and rock greats of the 60's and 70's found their way into her own music. With those influences as a foundation, and a strong dose of 90's radio hits (from women like Fiona Apple, Alanis Morisette, Bonnie Raitt, Sheryl Crow, and of course, Mariah Carey), Maloney was forming her sound long before she even wrote a single lyric.
According to her mother, her singing career began in the aisles of a Northern New Jersey grocery store, where she developed a reputation for serenading shoppers. The writing would come much later, after spending the first few years of her early 20's in a state of self-proclaimed "Musical A.D.D.". After training her voice in classical operatic, improvisational jazz and classical Indian vocal techniques, Maloney was suddenly and overwhelmingly compelled to drop all things musical. Actually, to quit making sounds or noise, altogether.
She found herself living at a silent meditation retreat center in Central Massachusetts, where she would practice for almost 3 years, studying and Vipassana Meditation, pouring over Rumi and Rilke, and keeping a journal documenting daily life at her cottage in the woods. It was in this place of quiet that, ironically, she began writing her first songs. Songs largely inspired by her experiences in meditation, including equal parts of the dark / uncomfortable / twisted parts of the human mind, as well as the sparkling and brief moments of that longed-for, ever elusive thing called insight. Maloney said that if she hadn't started writing songs at the meditation center, she would be "completely covered in tattoos, because each song is about something I really, really want to remember badly … so I wouldn't have to go through it again."
And with the same sudden and overwhelming resolve that led her to the meditation center in the first place, she re-emerged into the music space with a guitar and a few songs that meant something to her. In the years since Maloney has left her life of silence and reflection, she has toured almost constantly, written hundreds of songs, and slept on over a thousand different pillows.
Learn more at https://www.heathermaloney.com/
Tatiana Hargreaves & Sonya Badigian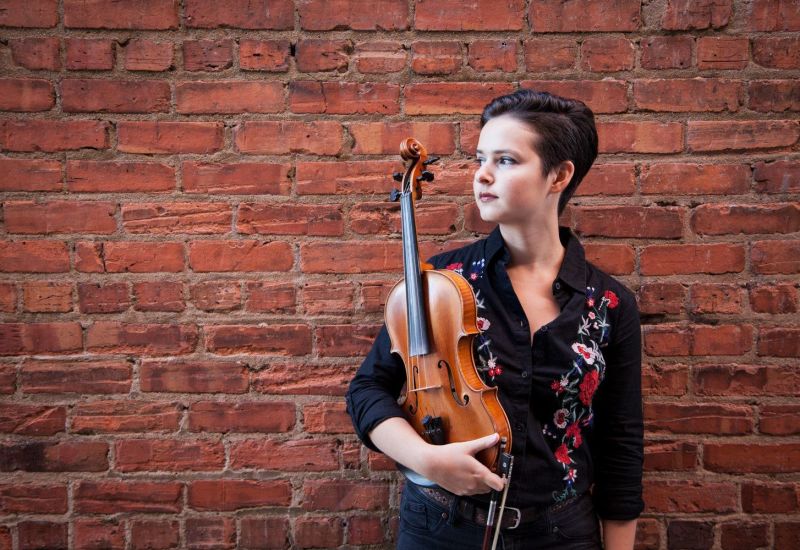 Over the past eight years, Tatiana Hargreaves has been on the forefront of an up and coming generation of old time, bluegrass and new acoustic musicians. Since releasing her first solo album "Started Out To Ramble" in 2009, Tatiana has toured with musicians such as Dave Rawlings, Gillian Welch, Laurie Lewis, Darol Anger, and Bruce Molsky. From being the second woman to place first at the Clifftop Appalachian Fiddle Contest, to her bluegrass fiddling on Laurie Lewis' GRAMMY-nominated album The Hazel And Alice Sessions, Hargreaves shows a musical fluency that flows between old time and bluegrass worlds with ease.
After touring as a member of Laurie Lewis & the Right Hands and finishing her degree at Hampshire College, Tatiana now makes her home in Durham, North Carolina where she splits her time between teaching bluegrass fiddle at the University of North Carolina Chapel Hill and touring.
Learn more at https://www.tatianahargreaves.com http://www.sonyabadigian.com