Bill and the Belles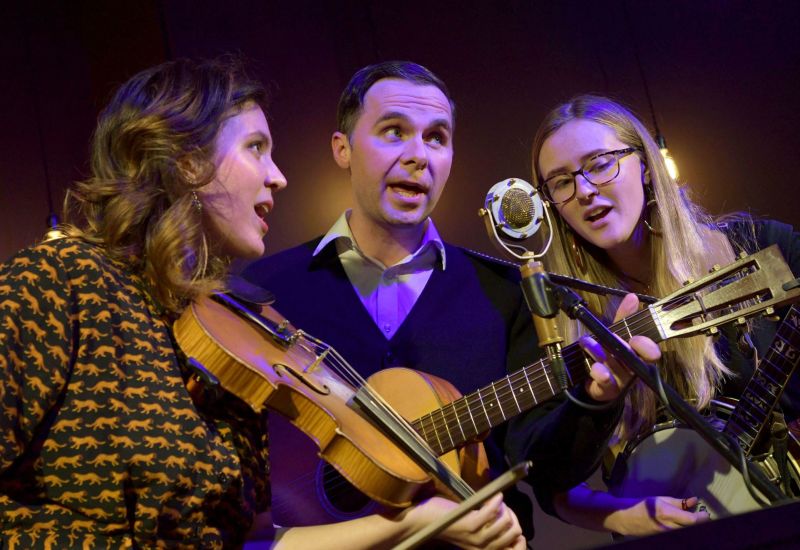 With their enchanting debut album, Dreamsongs, Etc., Bill and the Belles have captured the freewheeling, lighthearted approach to music that has endeared them to listeners of every generation. With a spirited sound that falls somewhere between old-time country and vaudeville, the group puts its own spin on a golden era of music, specifically the 1920s, 1930s, and 1940s.
"We like old music and some of us are consumed by it," says lead singer and guitarist Kris Truelsen with a knowing laugh. "But we don't have a desire to copy it. We want to sound like ourselves and tell our story."
As a result, a majority of the material on DreamSongs, Etc., is original, from the upbeat number, "Wedding Bell Chimes," through the yearning ode to youth, "Back to My Childhood Days." While Truelsen's distinctive tenor anchors the project, the Tennessee-based band's trio harmonies gleam against a backdrop of banjo, fiddle, accordion, ukulele, and clarinet.
"The title seemed appropriate in that a lot of the songs are about dreaming for something better, better days, better lovers, better whatever it may be," Truelsen says. "Not to mention many of the songs we chose to sing are about the sentimental dreamer."
The band takes its name from Bill and Belle Reed, performers from the 1920s who recorded the songs "Old Lady and the Devil" and "You Shall Be Free" in Johnson City, Tennessee. Truelsen says, "That was the first time I heard 'Old Lady and the Devil,' and since then it's become clear to me why it's stood the test of time. Simple, plaintive, stripped-down but incredibly expressive, tough as nails and funny as hell. I first heard that side on the Harry Smith Anthology of American Folk Music, a collection that continues to inspire. Our band's name is a way to honor their music, the music of this place, and this region in general that we've come to call home.
In 2015 Bill and the Belles stepped into the role of house band upon the launch of a live radio show, Farm and Fun Time, presented by Radio Bristol. Truelsen launched that community radio station, housed within the Birthplace of Country Music Museum in Bristol, Tennessee. Along with sharing the stage with the nation's top roots artists (Marty Stuart and the Fabulous Superlatives, Del McCoury and Earls of Leicester), the band writes and performs the snappy, comical jingles for the show's monthly sponsors.
"Singing and playing music in front of audiences is great but when you add in the platform of live radio it's even better," Truelsen believes. "Especially when the audience is a community of folks who come day in and day out to support you. What a feeling, and boy, the stakes seem higher with live radio – like it's bigger than just us playing music. It keeps us on our toes and makes us want to deliver not only good music but a good show."
It's that same combination of expert musicianship and spontaneity that makes DreamSongs, Etc. sound so alive. Working with engineer Joseph Dejarnette, the band recorded the project in just two days of sessions inside a beautiful old farmhouse in the rolling hills of Southeast Virginia.
The trio recorded around one microphone while rounding out the sound with addition of accordion and clarinet. Home-cooked meals and picturesque surroundings made the experience even more rewarding. "The small cities like Johnson City and Bristol tucked in between the mountains are inspiring to me," Truelsen says. "I find the tension of urban and countryside to be a beautiful thing."
After growing up in the mountains of Colorado, Truelsen rambled through Los Angeles, Philadelphia, and Chicago, before landing in Johnson City in 2011.
"The musical history of the region is what brought me here," he says. "I have long listened to recordings from '20s and '30s, and once you start digging into the stories and the people behind the music it's incredible to find how many talented musicians through the years made their home in these mountains. How many people were drawn here because of the advent of location recordings, development of radio, and various music-making opportunities that were hard to come by in certain parts of the world."
Of course one of the most prominent artists with ties to the area is Jimmie Rodgers, known as the Father of Country Music. DreamSongs, Etc. includes superb renditions of his compositions "Carolina Sunshine Gal" and "Tuck Away My Lonesome Blues," which fit neatly into the album's overall vibe.
"I definitely try to channel some Jimmie Rodgers in my approach to songwriting. Simplicity and purpose...every word should count. I will never tire of the diversity of his catalog. It seems like every week I find a song of his I may have overlooked prior that hits me like a ton of bricks," Truelsen says. "Generally speaking I'm writing from my personal experiences, though I do my best to not make songs feel like they are part of any particular time. I would like to think someone could listen to 'Finger Pointin' Mama' and think it was written today, or maybe their Grandma might hear it and think it was written when she was a kid. I hope timelines are blurred and that the music speaks for here and now, and for way back when."
Learn more at https://billandthebelles.com
Abigail Dowd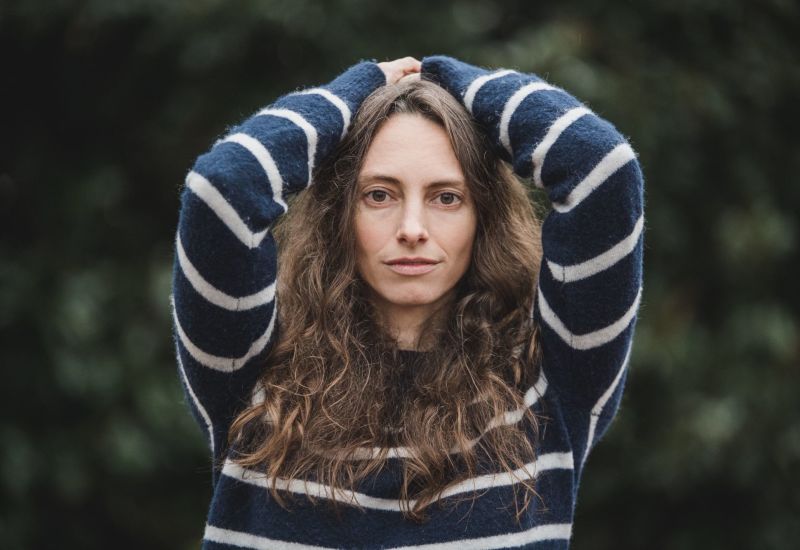 Stories... the ones we tell ourselves, the ones we tell others... the ones we make up, the ones we live through... all these stories are our past and our present, our hopes and our fears, our sins and our salvation. They are who we are. And for singer/songwriter Abigail Dowd, they are more than who she is; they are what she does.
On her new album, Not What I Seem, Dowd steps through the looking-glass of not just her own story, but others', as well, positing the notion that, sometimes, all any of us needs or wants is to feel heard and seen. But that hearing and seeing must be unburdened by judgment, if it is to be true. As the Sufi poet Rumi wrote, "Out beyond ideas of wrong-doing and right-doing, there is a field. I'll meet you there." To arrive at this place, we must step outside of ourselves, through forgiveness, and into a space that is free from the shackles of shame.
Throughout this song cycle, Dowd takes those steps and tosses aside her own protective veil, so that she might finally know and share herself fully with the world around her. To do so, Dowd takes her cues from her Anthropology studies and zooms out to the bigger picture so that she might see all sides of the story.
Learn more at https://www.abigaildowd.com