Joe Topping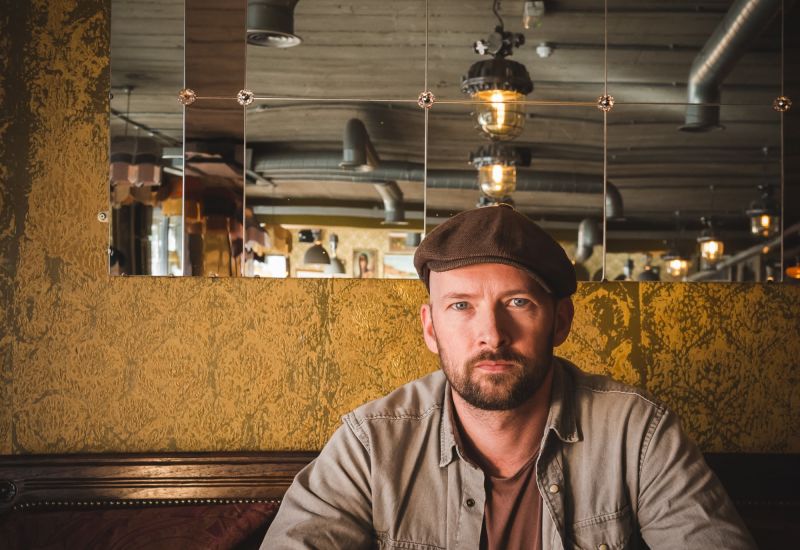 Joe first realised the power of music when he had his trousers stolen in Canada. They were the only pair he was traveling with and as Joe had cleverly hidden his wallet in the pocket of said trousers, he found himself in a foreign country with no friends, no money and nothing to cover his union Jack boxer shorts.
The one thing of use Joe did still have was his guitar, which, after borrowing a pair of jeans (from a very kind stranger) he took down to the harbour and started busking. His guitar not only earnt him enough money to get by, but like John Steinbeck's dog in "Travels with Charlie", it introduced him to new friends and adventures. It continues to do so to this day.
Joe is a singer-songwriter who has been described as a "cross between Ry Cooder, Woody Guthrie and Paul Brady". From the traditional music heard in the folk clubs he grew up around to the Americana and blues influences from his adventures in the USA which have included living in a pickup truck and driving around America for the best part of a year and later walking 1400 miles with a guitar on his back from Chicago to New Orleans!
Joe has developed his own unique bottleneck guitar style which he employs in many of his original songs and has a voice that can move from velvet soft to steely and powerful. He has played on stage and in the studio with many legends of the British folk scene including members of Fairport Convention, While and Matthews, Andy Irvine and toured as stand in lead vocalist in the BBC2 award winning "Best live Act" Home Service.
Joe was also a member of the legendary Ashley Hutching's Rainbow Chasers and is currently a member of British Country Music Hall of Fame inductee, Charlie Landsborough's touring band and festival favourites, Elbow Jane.
Learn more at https://www.joetoppingmusic.com
The Resonant Rogues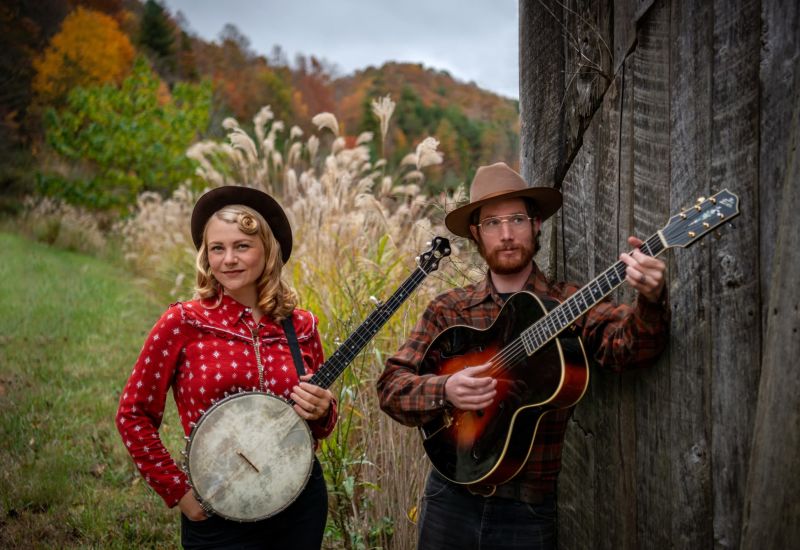 Asheville, North Carolina's genre hopping songwriters, The Resonant Rogues, have been winning over audiences worldwide with their signature blend of string band music since 2013. Following their musical inspirations from the Appalachian mountains to the Balkans, through Paris by way of New Orleans, their original songs speak to the heart with poetic lyrics, and appeal to the ears with stellar musicianship and arrangement.
"American folk music has always had a populist perspective, a vision of music made by the people, for the people. Asheville, North Carolina roots band The Resonant Rogues know this well, for they've traveled the byways and highways of America, even crossed the water to Europe and the Mediterranean with instruments and songs in tow. Anchored by the songwriting duo Sparrow and Keith Smith, the Rogues have shared songs with train-hoppers in New Orleans, busked on the streets of Budapest, learned Turkish Romani dance in Istanbul, and marched in protest in the hills of Appalachia. Throughout, the stories they've heard and the people they've met have fueled their music, which abounds with influences like Eastern European Romani brass bands, New Orleans street jazz, old-time stringbands, Woody Guthrie anti-fascist folk, French jazz Manouche, and Middle Eastern rhythms. It's not easy to pull off such a bold combination of genres, but The Resonant Rogues learned this music in person from the people who created it, so they have a tie to each tradition and a working knowledge of what this music means to the ordinary people that make this music every day. It's a tintype view on the modern world, a cracked image that reflects the past through a prism of the future.
Learn more at https://theresonantrogues.com
Klezmer Local 42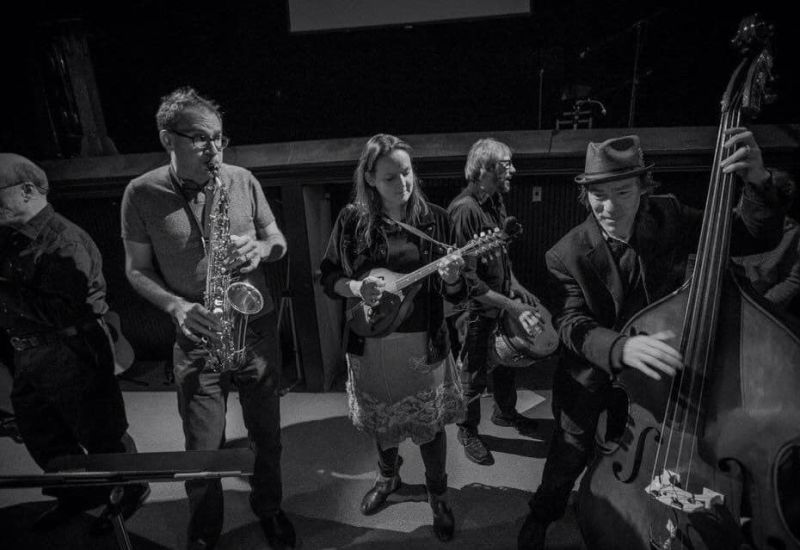 Klezmer Local 42 began in Athens, Georgia, 2009. For a long time before its inception, double bassist and long-time EarthFare employee Dan Horowitz and guitarist/evolutionary biologist Daniel Promislow would discuss their love of klezmer every time they met, which, in a town the size of Athens, was often. Meanwhile Daniel and multi-instrumentalist/singer Noel Beverly often talked about world music while they were members of the Athens Celtic band Short Road Home and wondered about getting together with this Horowitz guy to play klezmer.
After all, mused Dan and Daniel, what other music could so embody their culture and that of their ancestors? What other music could pack so much emotion—so much joy and sadness (often simultaneously)—into each and every note? The Blues? Yes, but klezmer is a very close second – and very danceable.
Finally, after possibly years of talk, Horowitz, Promislow and Beverly began the hunt for like-minded musicians in earnest. Luckily, musicians grow on trees in Athens, GA. It didn't take long for the band to pick up drummer Joe Ellison, violinist Adam Poulin, accordionist Abel Klainbaum (who played from 2009-2012), clarinetist Paul Prenovitz (2009-2010), and finally Bud Freeman, who replaced Paul on clarinet. Their newest members are percussionist Eddie Glikin, saxophonist Rabbi Eric Linder, guitarist Scotty Nicholson and accordionist, Philip Kohnen.
A quick word about the name. They started with the name Lokshen Kugel, which means "noodle pudding" in Yiddish, but soon found that many people had trouble pronouncing "Lokshen Kugel". They even had trouble pronouncing "The Band Formerly Known as Lokshen Kugel". So they changed the name to Klezmer Local 42.
It didn't take the band long to realize that they were far too twisted to just play traditional klezmer. They couldn't refrain from incorporating other influences into their music including Classic Rock, swing, hip-hop, pop radio hits, tangos, and sea shanties. They sing in Yiddish, Hebrew, English, French, Spanish and Pirate-Talk. They also have a penchant for playing movie theme songs.
Klezmer Local 42 has enjoyed a strong regional following, playing Bar Mitzvah's, weddings, festivals and clubs and have toured nationally and internationally.
Early in 2015, Klezmer Local 42 released a full-length CD entitled Fear of a Yiddish Planet.
Learn more at https://www.klezlocal42.com