Heather Maloney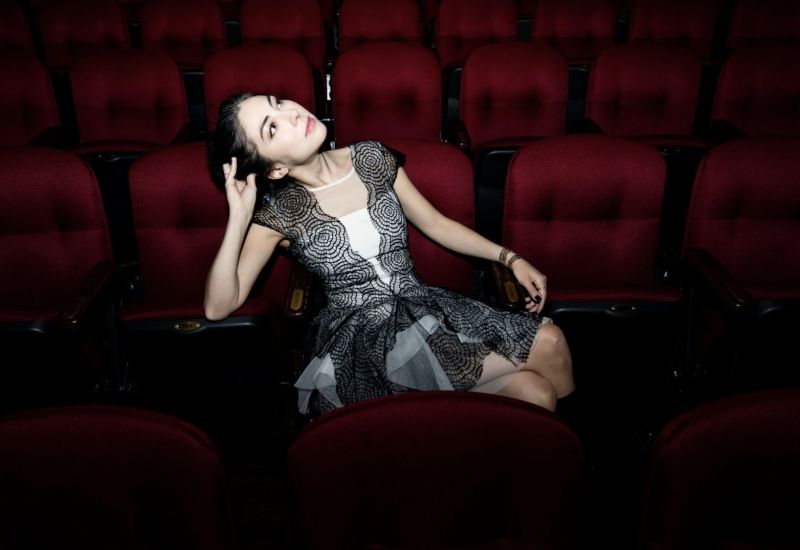 After over 1,000 live shows and more than a decade of touring behind studio albums, Heather Maloney is set to release her first live album, "No Shortcuts | Live at the Academy" in June of 2022 on the celebrated indie label, Signature Sounds.
The Massachusetts-based "writer song-singer" found music in the midst of three years at a meditation center, honing a sound moored in days of silent reflection and reverence for storytellers like Joni, Rilke, Ken Burns, and the anonymous authors of Zen parables. And while she eventually traded the quiet, structured life as a yogi for the kinetic life a touring musician, the core of her songwriting remains centered around same curiosity about our inner world and the desire to articulate it through storytelling. She now has eight studio album releases under her belt, each one marked by inspiring collaborations with musicians, songwriters and producers.
On Heather's 2019 album, Soil In The Sky, her "ability to channel emotion is radical" (PopMatters) and the tracks are stacked with special guests who help her deliver an immense range of sound and sentiment in 12 songs; there's a duet with Dawes front-man Taylor Goldsmith on the Walt Whitman-inspired love song "We Were Together", an appearance by Rachael Price on the album's opening track "Enigma", and Jay Ungar lends his legendary folk fiddle to "Oklahoma Lullaby", a song inspired by Ken Burns' documentary The Dustbowl. (Ungar composed ?Ashokan Farewell in Burns' The Civil War). The all-star band includes drummer Griffin Goldsmith (Dawes), and multiple members of the Amos Lee band.
The Bluegrass Situation called her 2015 release, Making Me Break (produced by Band of Horses' Bill Reynolds) "an intoxicating blend that captures the sonic texture of indie rock, the humanity of folk and the spirituality of a Rumi poem."
In 2014 she released "Woodstock", her collaborative effort with Boston quartet Darlingside, which drew praise from the New York Times and Graham Nash.
Heather's songs have played on NPR stations across the country and her live appearances have aired on syndicated programming like eTown and AudioTree. Her song "Nightstand Drawer" was used in the season finale of the CBS TV series "Elementary", and her songs have also been featured on a number of editorial Spotify playlists & Starbucks' in-store nationwide playlists.
As well as a songwriter and performer, Heather is an illustrator and linocut artist who carves and prints visual representations of her songs on a variety of mediums. She considers the integration music and art to be an inspiring new chapter as a creative, and while most of her growing catalog is reserved for her Patreon community, she periodically releases limited-edition prints to accompany albums and singles.
Heather has toured throughout the US & Canada as a headliner and also in support of acts including Lake Street Dive, Shakey Graves, Gary Clark Jr., Rodrigo y Gabriela, Colin Hay (Men at Work), Mary Chapin Carpenter, Shawn Colvin, Dar Williams and many more.
Learn more at https://www.heathermaloney.com
Erynn Marshall & Carl Jones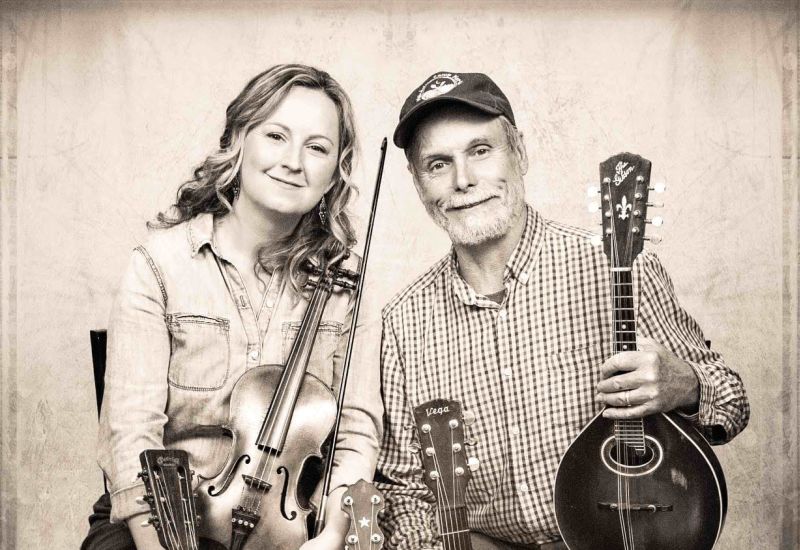 Erynn Marshall and Carl Jones are old-time musicians and inspired tunesmiths from Galax, Virginia. They are married – in life and music. Southern song-duets and powerful fiddle, guitar, mandolin, banjo tunes comprise their diverse sets. Erynn and Carl play with spontaneity and vitality. While rooted in the traditional sounds of older players, this duo stays true to their own muse by composing new, tradition-rooted music. Carl's song, Last Time on the Road was featured on the grammy-award winning album "Unleashed" by the Nashville Bluegrass Band. They have won many awards for their playing including Erynn's 1st place fiddle win at Clifftop and Carl's 3rd place fingerpicking-guitar win at Winfield – both premier festivals in the United States. They have 15 recordings between them including their duet CD Sweet Memories Never Leave. Erynn and Carl have recently toured in the US, Canada, Europe, Australia and China. For more information please visit.
Erynn Marshall is an old-time fiddler who lives in Galax, Virginia and is known internationally for her traditional music. Erynn learned the nuances of Appalachian old-time fiddling from rare recordings and visiting 80-95 year-old southern fiddlers. Her effortless, transportive way of playing expresses joy, mournfulness, and stays true to the old tunes. Erynn performs at festivals, teaches at music camps around the globe, and tours with her husband – songwriter and multi-instrumentalist Carl Jones. Her original tunes are becoming common repertoire in fiddle circles. Erynn won 1st place fiddle at "Clifftop" (The Appalachian Stringband Festival) and was the first woman to do so in 19 years. In 2019, she won first place old-time fiddle Mt. Airy Bluegrass & Old-time Fiddlers Convention. She has made 11 recordings, and appeared in 5 films (Voices of Virginia, the Clifftop Experience I'll Fly Away Home, Conversations with Old-Time Musicians," plus Never Met a Stranger) and is featured in the new book "Singing at the Clothesline" by Susi Lawson. Erynn is coordinator for Swannanoa Old-Time Week (Swannanoa, NC) and Program Director for Alleghany JAM (Junior Appalachian Musicians) a non-profit that helps children learn traditional music afterschool.
Carl Jones is an American songwriter and multi-instrumentalist. Born in Macon, Georgia, Carl presently lives in Galax, Virginia. He studied music near Muscle Shoals, Alabama and was influenced by seeing Roy Orbison, Steve Goodman, and Mac Macanally record there. Carl is widely respected for his instrumental talents and original songs about the joys and tribulations of day-to-day life in the South. Carl's songs have been recorded by The Nashville Bluegrass Band, Kate Campbell, Rickie Simpkins with Tony Rice, and others. His song Last Time On The Road was on the grammy-award-winning album Unleased by the Nashville Bluegrass Band. In the 1980's he played mandolin with James Bryan, Norman and Nancy Blake as part of the Rising Fawn String Ensemble. Today he tours the world with his wife, fiddler Erynn Marshall. Carl is known for his fine musicianship, charismatic teaching, sense of humor, and powerful songwriting. He has recorded on a couple dozen recordings including his original songs CD "Traveling Star" and Norman Blake's "Original Underground Music of the Mysterious South."
Learn more at https://dittyville.com
Drake Duffer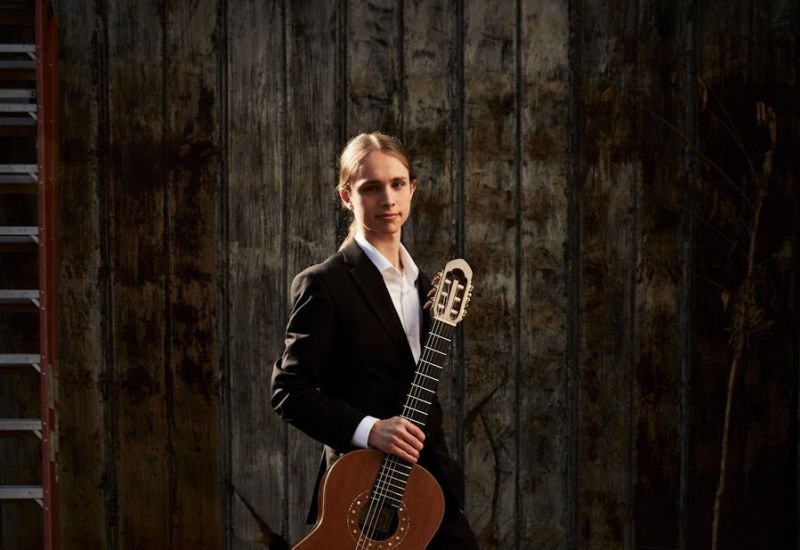 Drake Duffer is a New York City-based guitarist, composer, and musician from Winston-Salem, NC. He continues to explore different ways of writing and performing, and is a champion of new music and crossover genres.
Drake holds degrees from the University of North Carolina School of the Arts and the Yale School of Music (Bachelor and Master, respectively). He has performed in venues ranging in style and reputation, from revered classical stages like Carnegie Hall to modern popular spots like Rockwood Music Hall. His teachers have included Jason Rogers, Gerald Klickstein, Zane Forshee, Michael Kudirka, Joseph Pecoraro and Benjamin Verdery.
As well as being an active solo performer, Drake has been chosen to participate in many collaborative recitals, and to give many world premiers by the likes of Ronald Pearl, Aaron Israel Levin, Kendra Harding, and Javier Farias. He has used such new music experiences to fuel his own compositions and arrangements, one of which earned him the Seconda Prattica Pujol Award for arranging. Drake is also a founding member of Early Gray, a modern music duo consisting of himself and Owen Dodds, pianist.
Learn more at http://drakeduffer.com