Choro das 3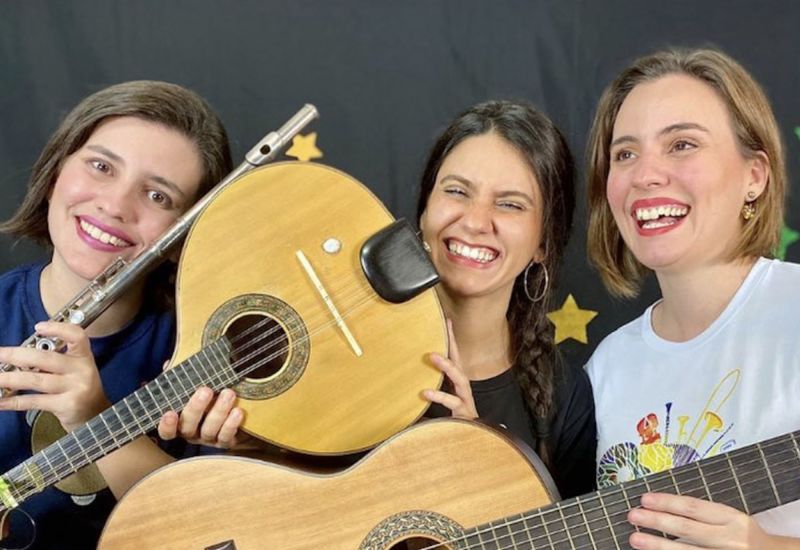 For 19 years, Choro das 3 was a group formed by three sisters: Corina (flute and piccolo), Lia (7-string guitar), Elisa (mandolin, clarinet, banjo, clarinet and piano) and father Eduardo (tambourine). , who died of COVID-19 on June 11, 2021.
In 2022 we complete 20 years of career, and we never imagined that this date, which should be so happy, would arrive without the person most important to our success being here to celebrate this journey.
It all started when a volunteer teacher started rehearsing a choir with the first grade class where Corina studied in her hometown, Porto Feliz. So Corina started studying the recorder and her father Eduardo, excited, bought a tambourine to remember his youth and have fun with his daughter on weekends.
Corina ended up choosing the transverse flute thanks to a record by Altamiro Carrilho. Younger sisters Lia and Elisa wanted to be part of that musical game and ended up choosing their instruments too. Lia switched to the guitar (at the time, still with 6 strings) and Elisa already asked Santa Claus for a "bandolinho" in her little letter from that year.
The idea was never to form a group. The girls' parents, Eduardo and Cristina, just wanted their daughters to have a hobby and have fun with music.
Knowing that São Paulo collected great Choro musicians, the family began to attend the capital's circles weekly, so that the daughters could learn the style from the masters.
In these choro circles in São Paulo, the family began to draw attention. It wasn't common to see three girls in that environment. Invitations to TV and Radio programs and the first Show, contracted by the US Consulate, arose.
The group chose the name "Balaio de Gato", which later became "Choro das 3" before the release of the first CD, Meu Brasil Brasileiro.
Meu Brasil Brasileiro was launched by Som Livre in 2008 and in addition to having taken Choro das 3 to the main TV and radio programs in the country, it brought the group the Best Group of the Year award by the São Paulo Association of Art Critics. From then on, Choro das 3 never stopped. There are already 11 cds recorded, 8 international tours, hundreds of concerts and workshops in different countries and a growing public on the internet.
Learn more at https://www.chorodas3.com.br
Wyatt Easterling
Wyatt Easterling's decades of success in the music industry includes a myriad of roles from performer to songwriter, and as an executive of both a major record label and publishing company. This wealth of experience and accompanying success in all these varying facets of the industry, give him a unique and valuable understanding of the music business.
When Atlantic Records opened their Nashville office, Easterling signed on as Chief of A&R, and started his track record of success by signing artists such as Tracy Lawrence, Michael Johnson, Neal McCoy, and John Michael Montgomery.
Easterling along with Doug Johnson, produced Montgomery's multi-platinum debut album, Life's A Dance.
Wyatt then partnered with Miles Copeland (Sting, The Police, IRS Records) and formed the Nashville Division of Bugle Publishing Group and Firstars Management as Director of Operations. Easterling brought Keith Urban to Firstars Management and worked at length with Urban in the studio recording the project that landed Keith his first major deal at Warner Bros. Records.
In addition to ushering notable artists into the mainstream, Easterling and Copeland created Bugle Publishing Group's The Castle, the first of its kind songwriter's retreat held yearly at Miles Copeland's Chateau Marouatte in France. This event saw great success with a long list of esteemed artists and writers such as Keith Urban, Cher, Carole King, Jon Bon Jovi, Peter Frampton, Olivia Newton-John, and
Stuart Copeland, to name a few.
Wyatt then signed alternative roots artist Paul Thorn into the company for management and publishing. Easterling produced Paul's album, Hammer & Nail along with Greg Wells and Billy Maddox for A&M Records, Los Angeles.
After Bugle Publishing, Easterling decided it was time to get back to songwriting and promptly signed with DreamWorks Publishing. Eventually Wyatt opened Terra Nova Music, his own publishing company in Nashville, which had eight writers on staff.
To name a few, Wyatt's songwriting success includes "Modern Day Drifter" (Dierks Bentley), "Life's So Funny" (Joe Diffie), "This Time I'm Taking My Time" (Neal McCoy).
Wyatt released his 5th album titled From Where I Stand on July 29th, 2022 and is currently touring to support this critically acclaimed release.
Learn more at https://www.wyatteasterling.com
Couldn't Be Happiers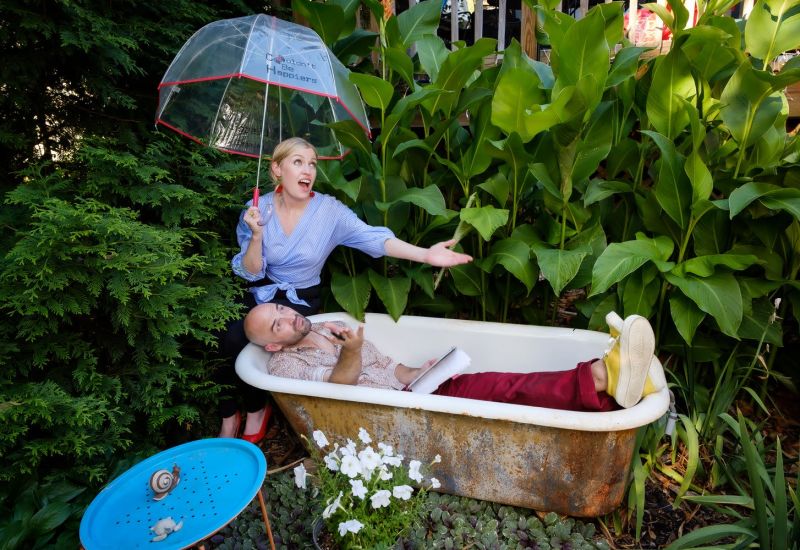 Jodi Hildebran Lee and Jordan Crosby Lee are both law school graduates, but they didn't meet in a courtroom.
They first met in Winston-Salem in 2013 at an old-time music circle that gathered once a month to share music, food, and company to decompress from the rigors of ordinary life. A career opportunity sent Jordan to Texas and separated the two friends until they serendipitously reconnected a year later. This new connection was different, and it was strong. So strong that Jordan packed up his dog and guitar and left both Texas and the practice of law for a life of music with Jodi in North Carolina.
Now they've got four dogs and a band together, and they couldn't be happier.
The name says it all. Energetic and quirky, Couldn't Be Happiers is a folk-rock duo that clearly enjoys every moment of their second chance at happiness, and it's contagious. Described by Doug Davis of Flytrap Studios as Violent Femmes meets Johnny and June, this married songwriting duo mixes up rock, pop, bluegrass, and folk into a Carolinian succotash you need to taste to understand. Their songbook includes stories about the obsessive drive of a Bigfoot hunter, the life cycle of a plastic bag, the untold perspective of the first woman hanged in North Carolina, and the acrobatic feats of strength performed by a Cajun burglar feeding his gambling habit.
But aside from the stories, what you'll notice first is the voices — and in particular the beautiful homespun harmonies. Those voices will take you from church to holler to club to Opry and back again all in one song, thanks to the exhilarating power of Jodi's vocals and the smoothly classic twang of Jordan's. With Jodi on drums, Jordan on guitar, and now backed by local legend Michael Bennett on bass, Couldn't Be Happiers roll out an incredible sound, a set of great original songs, and a live show that all but dares you not to enjoy yourself.
- Tuck Satterfield of The Simple Joy
Learn more at https://couldntbehappiers.com