Ane Diaz
The voice projects the tendencies of the heart. It gives sonic shape to those internal emotions and casts them out as ripples in the universe. Slipping into a state of euphoria behind the microphone, Venezuelan-born and U.S.-based singer, multi-instrumentalist, and artist Ane Díaz summons a flurry of emotions to the forefront of her music. Celebrated by everyone from R.E.M. frontman Michael Stipe to NPR, her intense vocalizations arise from a crossroads of traditional Venezuelan folk and alternative angst as she amplifies timeless parables and cries for freedom. Her 2020 release of Los Ejes de Mi Carreta under Launchleft Label most clearly illuminates the power of her voice."I'm a vocalist, first and foremost," she states… I really feel everything I'm singing. I hope you do too."
Ane was born in Caracas to a musical family. After moving to the United States and by chance, Diaz started her American musical experience touring alongside Aleka's Attic—fronted by the late River Phoenix and also featuring Rain Phoenix. As they played shows together, Ane built a lasting bond with the siblings. In addition to again sharing the stage with Rain in The Causey Way, ( Alternative Tentacles) as a bass player, Ane launched Producto during 2001. This independent stalwart crafted songs in English and Spanish and built a catalog of three full-length albums. Along the way, she either recorded, toured or performed with REM, Jonathan Richman of the Modern Lovers, Ken Stringfellow of The Posies, Creston Spiers of Harvey Milk, Josh McKay of Deerhunter, to count a few; and now is recording her new album with Jim White producing to be released in 2023.
But it was 2018 when she reimagined and reinvigorated three Venezuelan folk staples on her Venezuela EP produced by Rain Phoenix . NPR named "Allá Vine Un Corazón" among "Songs We Love" and wrote, "Díaz's graceful angst and yearning inhabit the song, as her voice brings out a richness and emotional depth hidden within its more traditional versions.""The lost of Venezuela's democracy , really pushed me to honor these songs," she says. "That's what got me here, along with playing and loving these songs as a child. Then, Rain made it happen with the EP, always looking for ways to unite us all with music…She's like a Haley's Comet wrapped in the eye of a hurricane, a real force of Nature, a muse of the music world."
Maintaining this momentum, Ane breathes new life into the single "Los Ejes de Mi Carreta". "To me , it translates to the struggle of the poor or anyone being silenced" she goes on." The song refers to a farmer; he doesn't want to grease the wheels of his cart, because he wants to hear the noise. "It represents his voice, people deserve to be acknowledged, seen, heard and be proud of who you are."
In the end, Ane's voice will only get louder with more music to come.
"I'd love for everyone to see Latin music as not so far from alternative," she leaves off. "Even if you don't know Spanish, you can still experience and appreciate the emotion of the song. I'm an American Latino now, so I'm putting all of the things I love together and honoring them. I'm just someone who cares deeply about the future of Latin America and specially Venezuela. I will always care. To me, this music is about never forgetting ."
Learn more at https://www.anediazmusic.com
Dawn Landes
Other echoes inhabit the garden. Shall we follow? Quick, said the bird, find them, find them, round the corner. Through the first gate, into our first world, shall we followThe deception of the thrush? Into our first world.
There they were, dignified, invisible, moving without pressure, over the dead leaves, in the autumn heat, through the vibrant air, and the bird called, in response to the unheard music hidden in the shrubbery, and the unseen eyebeam crossed, for the roses had the look of flowers that are looked at. There they were as our guests, accepted and accepting. So we moved, and they, in a formal pattern, along the empty alley, into the box circle, to look down into the drained pool.
Dry the pool, dry concrete, brown edged, and the pool was filled with water out of sunlight, and the lotos rose, quietly, quietly, the surface glittered out of heart of light, and they were behind us, reflected in the pool. Then a cloud passed, and the pool was empty.
Go, said the bird, for the leaves were full of children, hidden excitedly, containing laughter. Go, go, go, said the bird: human kind cannot bear very much reality.Time past and time future
What might have been and what has been point to one end, which is always present.
Learn more at https://www.dawnlandes.com
Doug Davis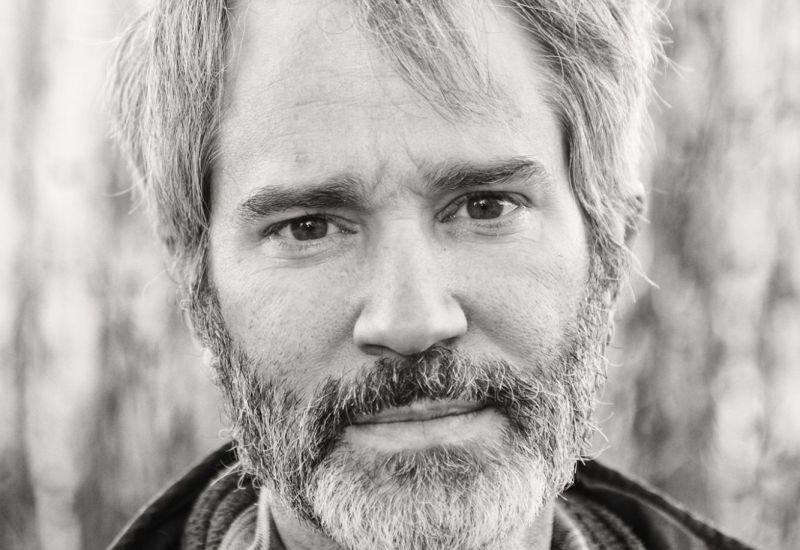 Doug Davis has been a fixture on the regional scene for many years, as a producer, sideman, a leader of the Triad community project, the Vagabond Saints' Society, and as an all-around musical instigator. But his heart lies in his original music, which he performs solo, in small combos (often with violist and accomplice, Susan Terry), and with his own crack band, the Solid Citizens.
Doug also performs and writes with Mt. Airy, NC, based roots-rock band, Mediocre Bad Guys, as well as with the rock-soul combo, Doug Davis & the Mystery Dates. Doug has also performed with Chris Stamey, Sally Spring, Mark Kano, Artie Lamonica (the Shirts), Jerry Chapman, and many others. His music has been featured in dozens of television shows and films, including "Saturday Night Live," "Dateline," "The Voice," and "Last Call With Carson Daly."
Learn more at https://dougdavis.ws/home