Ben de la Cour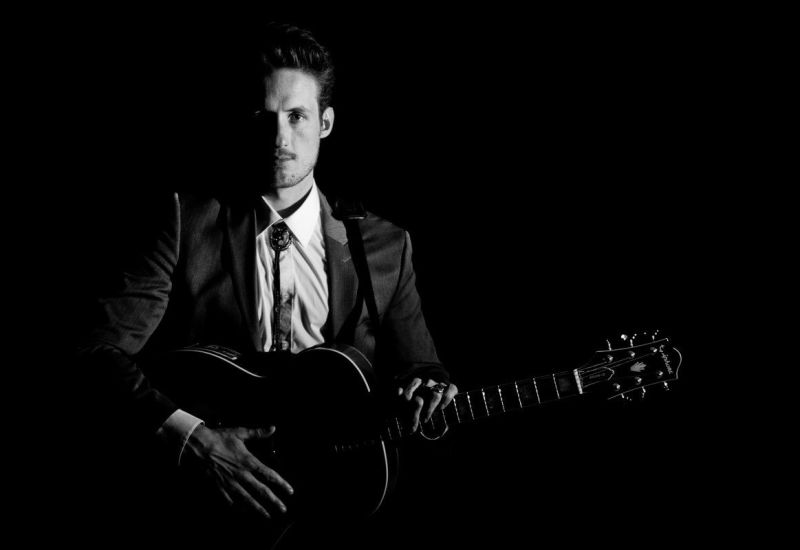 There are singer-songwriters, and there are troubadours. Singer-songwriters are sensitive, polished souls, sharing their journal entries with the world… whereas troubadours do their best just to stay out of jail. In the wake of Ben de la Cour's astonishing new record, Shadow Land, you can add his name to the top of the list of younger troubadours to whom this ever-so-occasionally poisoned chalice is being passed.
To say Ben de la Cour has lived an eventful life in the course of keeping that flame lit is to put it mildly. As young man he was a successful amateur boxer (taking in the lithe frame he sports today and his aquiline undamaged features, you'd never know that small-time pugilism was ever a feature of his life) which may have inspired the line "never trust any man / if he don't have no scars". After playing New York City dives like CBGBs with his brother a decade before he could legally drink, he had already stuffed himself into a bottle of bourbon and pulled the cork in tight over his head by the time he was twenty-one. There were arrests, homes in tough neighborhoods all over the world, countless false starts as well as stays in psychiatric hospitals and rehabs as Ben battled with mental health and substance abuse issues. But in 2013 he finally found himself in East Nashville and 2020 saw the release of far and away the best of his four albums - Shadow Land.
Ben de la Cour's music has been featured on SiriusXM Outlaw Country, BBC Radio and NPR while receiving high praise from American Songwriter, Maverick Magazine, No Depression, Twangville, Dusted Magazine and Daytrotter amongst others. He is a former Kerrville New Folk Winner and currently spends over a hundred days a year on the road touring the U.S, Canada, Europe, and Australia.
Learn more at https://www.bendelacour.com
Angela Easterling & The Beguilers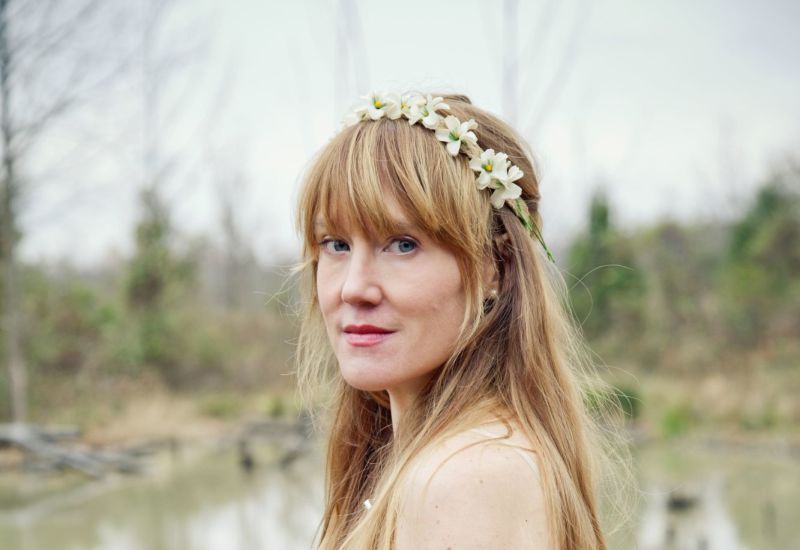 Angela Easterling brandishes her songwriting chops with rootsy, refreshing, homespun tunes. Her backing band, The Beguilers (bass, drums and lead guitar), master many complex styles, with instrumentation that fleshes out the stories in Angela's songs, and adds some rocking fun. Their act is not quite country, not quite folk, but all together unique and engaging.
Angela lives with her musical partner and their three young sons on the Greer, SC farm that has been in her family since 1791. Her most recent release, "Common Law Wife", went all the way to number 1 on the Roots Music Report Americana Country Airplay Chart, and remained in the top five on that chart for over 2 months, garnishing much praise in the press. Her album, "BlackTop Road", produced by Will Kimbrough, was on the Americana top 40 airplay chart for 7 weeks. It was chosen as a top pick in both Oxford American and Country Weekly. She was selected for an official Americana Convention Showcase, official showcases at both NERFA and SERFA (Folk Alliance) and is also a four-time Kerrville New Folk Finalist, a Telluride Troubadour and a two-time Wildflower Performing Songwriter Top 10 Finalist. The Boston Herald named her song "The Picture" "Best Political Country Song" in their Year's best music picks. Angela's music was featured in commercials (Southwestern Bell) and several of her songs were used in the series "Horsepower" on Animal Planet. She was invited to appear on the WSM-hosted stage at the CMA Music Festival/Fan Fair, where her entire set was broadcast live. Angela has appeared on the nationally broadcast public radio program "Michael Feldman's Whad'Ya Know", the popular ETV show "Making It Grow", Sirius XM Outlaw Country's "Buddy and Jim Show" with Buddy Miller and Jim Lauderdale, and was also interviewed by noted NPR journalist Bob Edwards. She was invited to perform at the Smithsonian Institution's exhibit New Harmonies: Celebrating American Root's Music, as well as the Woody Guthrie Folk Festival. In 2019, Angela had the distinct honor of performing her song, "Isaac Woodard's Eyes" at the unveiling ceremony of an historical marker in honor of the late civil rights hero, Sgt. Isaac Woodard.
Angela has toured the U.S., both solo and duo with Brandon Turner, and has appeared with her crowd-pleasing band The Beguilers at numerous concert series and music festivals throughout the Southeast, including Shakori Hills, Fall for Greenville, NC Apple Festival, Strawberry Festival, Albino Skunkfest and more. She has opened for or appeared with The Carolina Chocolate Drops, Sarah Jarosz, Elizabeth Cook, Lucinda Williams, Charlie Louvin, Robbie Fulks, Mary Gauthier, Ray Price (at the Birchmere), Suzy Bogguss, Ellis Paul, Tom Brosseau, Eilen Jewell, Radney Foster, Will Kimbrough, The Oak Ridge Boys, and Lori McKenna.
In 2020, Angela & Brandon welcomed their third baby boy, and released several singles from Angela's upcoming album. While COVID stalled their plans for a 2020 release and tour, they are busy recording a handful of new songs, written during quarantine, and plan to finally release a new full-length project in 2021.
Learn more at https://www.angelaeasterling.com
Jodi Burns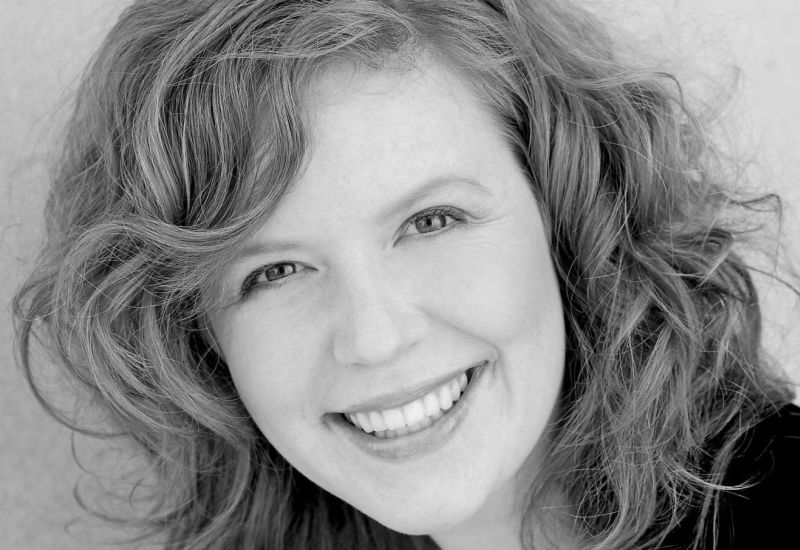 Jodi Burns has been described as singing with a "plush voice and rich expressivity"(The New York Times). In her appearance as Anna Sorenson in Kevin Puts' Silent Night, (Piedmont Opera), The Winston-Salem Journal notes, "Burns dazzle[s] with her lustrous soprano and bright charisma. The production is elevated whenever she appears on stage." Whether performing in intimate venues or on the opera stage, she appeals to a rich and diverse audience.
In her most recent appearance with Piedmont Opera in March 2019, Jodi gave, "another rather perfect performance"(Opera Lively), and "her Adina was fanciful but honorable… the ascents to the top Bs adroitly managed. Burns delivered the cantabile 'Chiedi all'aura lusinghiera' in the duet with Nemorino with dulcet tones…"(Voix des Arts).Roles include, Anna Sorenson (Silent Night), Adina (The Elixir of Love), Ann Trulove (The Rake's Progress), Lauretta (Gianni Schicchi), Micaela (Carmen), Josephine (H.M.S. Pinafore), Zerlina (Don Giovanni), Barbarina (The Marriage of Figaro), the Dew Fairy (Hansel and Gretel), Ida (Die Fledermaus), Maria Stuarda (Maria Stuarda), Mary Turner (Of Thee I Sing, Gershwin) and she has performed time and again with Piedmont Opera, The Princeton Festival, The Opera Theatre of the Rockies, The Mozart Club, The Piedmont Wind Symphony, The Winston-Salem Symphony, Magnolia Baroque Festival, the Carolina Chamber Symphony Players, Carolina Symphony SummerFest, and toured with The North Carolina Symphony, .
In summer of 2018 Jodi appeared in a concert series with composer and pianist Ken Frazelle, collaborating on a program of music from his song sets "Appalachian Songbooks I and II" and "Songs from the Rearview Mirror".A performer with a great deal of range and versatility, Jodi collaborated with The Piedmont Wind Symphony on a concert of her own compositions along with her band Judy Barnes. She duetted with Ben Folds at his 2015 "Home for the Holidays" Concert.Jodi holds a Masters of Music from the A.J. Fletcher Opera Institute at the University of North Carolina School of the Arts where studied with Dr. Marilyn Taylor and Jamie Allbritten. BME from The Ohio State University.
Learn more at https://www.jodiburnssoprano.com